About Us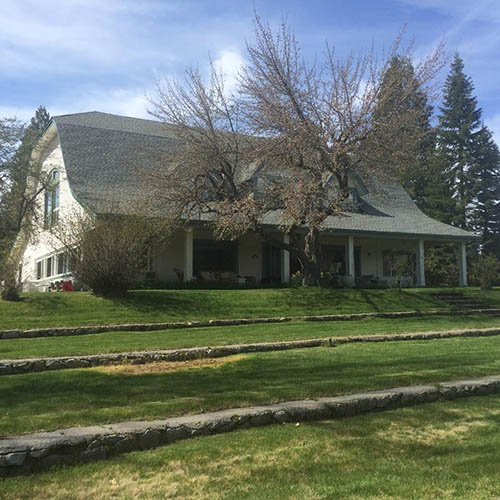 Our 2-story ranch house offers a rustic glimpse into the past in a historical setting. Built in 1923 by H. D. "Curley" Brown as a thoroughbred horse ranch, the original guest accommodations included the main house and several cottages and bungalows. Present-day guests enjoy the unique atmosphere and mood of those early years still reflected in the Shasta Starr Ranch Bed and Breakfast Northern California. This magnificent home has four spacious guestrooms in the main house, separate carriage house with five bedrooms and a two-bedroom cottage.
At the end of the day, please feel to curl by the huge stone fireplace and enjoy a crackling fire in our comfy living room or take a glass of wine to our large front veranda and bask in the sweeping unobstructed views of Mt Shasta as the sun sinks behind the clouds.Our relaxed atmosphere will make you feel right at home as we offer a gracious affordable alternative to hotels. Included in our rates are afternoon snacks, breakfast, early morning coffee and tea available in our tea room and many "little extras" to make your stay memorable.
As many of the B & B's long time guests may know Julian and Kachina Starr have purchased the Shasta Starr Ranch Bed and Breakfast and as of April 1, 2015, taking over from Bill and Mary Larsen. Bill and Mary owned the building for 30 years, 20 of which it was run as a Bed and Breakfast; giving it lots of love and hard work. We know many folks will miss them. The Starr's feel honored that the Larsen's chose them as their predecessors and will continue the Bed and Breakfast's much loved traditions. The new owners, Julian and Kachina Starr have owned and operated Turtle Rock Resort in Gold Beach, Oregon for eighteen years and will bring their experience and expertise to the care and restoration of this historic, rustic Bed and Breakfast in Northern California. They look forward to welcoming you.
Explore The Majestic Region Near This Bed and Breakfast Bed and Breakfast in Northern California
The Mount Shasta Cascade region of California is located in the northeastern and north-central sections of the state bordering Oregon and Nevada and is centered on Mount Shasta, a dormant volcano that is a prominent northern California landmark. Spend your next vacation at the Shasta Starr Ranch Bed and Breakfast in Northern California, and discover the natural beauty of this Northern California destination. Visitors come to the Shasta Cascades area for a variety of outdoor activities, including world class fishing, mountaineering, spiritual and scenic tours as well as world class cycling and mountain biking.
Explore the beautiful Dunsmuir Botanical Gardens, walk between a rocky wall and Hedge Creek Falls for a short, easy hike.  Climb the craggy spires at Castle Crags State Park. Paddle whitewater on the Trinity River or ski Mount Shasta's backcountry. Hike Mt. Shasta or take a guided tour of the sacred sites on the mountain.  Visit McCloud, a town nationally recognized for its trout fishing and cast a line in one of hundreds of nearby lakes and streams including Lake Siskiyou, just a mile from Shasta Starr Ranch B & B  or Castle Lake.  Ice skate during  winter months right in town at Shastice Park.  Enjoy dinner at a fine dining restraurant, a family restaurant and everything in between and then rest up for the next day's adventures at Shasta Starr Ranch Bed and Breakfast,  Northern California.