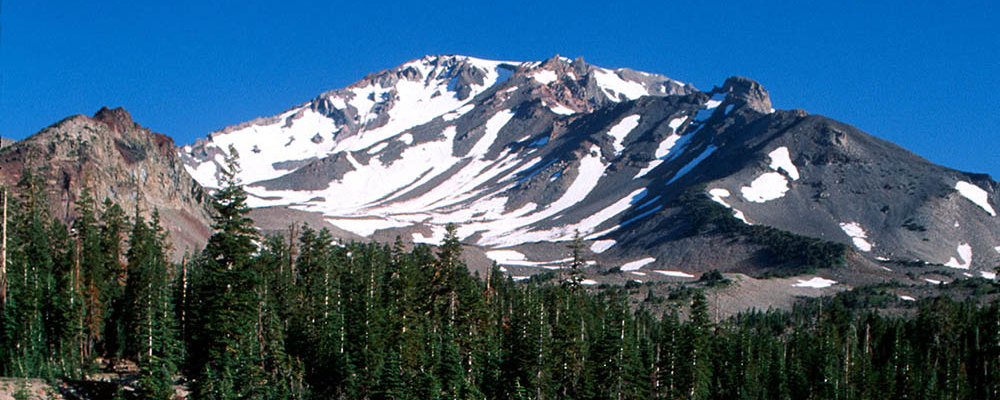 Drive the slopes of this 14,179 foot snowcapped, dormant volcano. Stop and take photos along several vista points that provide magnificent views of the Sacramento River canyon (southwest), the Eddy Mountains (west), and glimpses of Mt. Lassen (south).
At the Everitt Vista Turnout, enjoy a short hike through pine forests to a lava rock ourcrop to view the broad McCloud valley. Adventurous drivers can turn onto Sand Flat Road, an unpaved road through rare red fir forests that loops back to the highway.
Bunny Flat, 11 miles from town, is a major mountain access point for mountain climbers and hikers during the summer and is popular for cross country skiing, snowmobiling, sledding, and snow play during the winter months.
About 14 miles from town the highway ends at Old Ski Bowl Vista and legendary Panther Meadow. You will be surrounded by impressive scenery of Mt. Shasta's peak, spires of Castle Crags, and the rugged Trinity Mountains.
Hiking trails begin nearby. Water is available at Horse Camp and McBride Springs Campground. Public restrooms at McBride Springs campground, Everitt Vista Turnout and Bunny Flat.
To reach Everitt Memorial Highway (A-10) drive east on Lake Street in Mount Shasta City and continue past the high school. Proceed uphill on paved, two-lane road. For more information contact the U.S. Forest Service, Mt. Shasta Ranger Station at (530) 926-4511.